Standard Shipping 2-3 Days, Tracked Shipping 1-2 Days (UK Only). International Tracked Shipping 3-10 Days.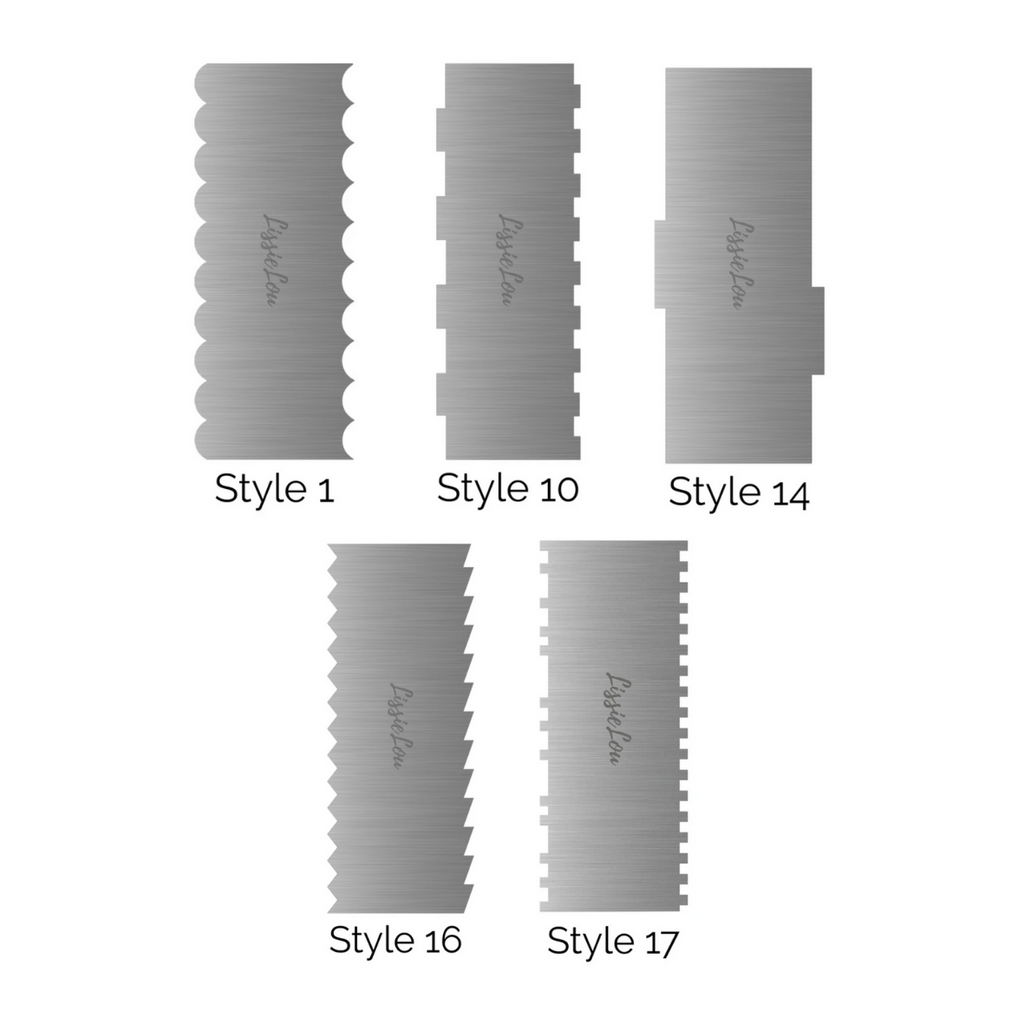 Set of 5 Metal Double Edged Cake Scrapers
This fabulous set of 5 Cake Scrapers will give a great range for you to use when making your cakes. These scrapers are a quick way to give your cake that professional finish and allow you to easily and efficiently create a great clean finish with just a few swipes.

Simply cover your cake with a generous amount of buttercream, ganache, icing, chocolate or frosting, hold the scraper vertical and run the scalloped edge around your cake. All of the scrapers in this set are double edged so can be used to produce 5 different style finishes!
This full set of 5 includes the following scrapers: Style 1, Style 10, Style 14, Style 16 and Style 17.
The scrapers are made from high quality food-safe metal. The Style 0 scraper contains a ruler, which will help to size your cakes and get the best finish.
WARNING: PLEASE TAKE CARE...
Read More
×
UK Postage
At LissieLou we pride ourselves on our same day or next day turnaround times and we will always aim to dispatch your orders as fast as possible. For same day turnaround please order before 1pm.
Postage Option

Time (approx.)

Cost

Order Total

Standard Shipping

2-3 Days

£2.00 +

£0-£25

Standard Shipping

2-3 Days

Free

£25+

Tracked Shipping

1-2 Days

£5.00

£0-£45

Tracked Shipping

1-2 Days

Free

£45+

Next Day by 1pm:
Order before 1pm
(Monday to Thursday)


1 Working Day

£7.50+

Any

Saturday by 1pm:




Order before 1pm


(Thursday after 2pm
and Friday only)

1 Day

£10.50+

Any
Please note - all delivery charges are calculated on total value of your order.
All delivery times are out of our control.
International Postage
Postage Option

Time (approx.)

Cost

Order Total

Standard Shipping

5-7 Days

£2.50 

£0-£15

International Tracked 
and Signed


3-5 Days

£9.00+ 

£15+

Delayed Deliveries
LissieLou are not responsible for delayed deliveries, please choose the correct shipping at your own risk. These shipping times are as what is quoted by from Royal Mail but delivery times are out of our control.
Damaged Products
If your products have arrived damaged please contact orders@lissielou.com with an image of proof of damage and written a statement (to be used by LissieLou for a compensation claim against the courier).
Lost Parcels
In the unlikely event you have not received your parcel within 7-14 working days we would first ask you to carry out the following checks:

1) That you have not received a Royal Mail card to collect from your local sorting office.
2) That it has not been left in or outside your home or with a neighbour.

If you are still unable to locate your parcel then please email orders@lissielou.com with you order number and delivery address. We will look into your delivery and come back to you with an answer.

Please note: if any order is placed with standard shipping LissieLou if not liable for any lost deliveries.